Saulteaux, Saskatchewan - School Profile
SAULTEAUX HERITAGE SCHOOL
Education
Pre K - Grade 8
PROGRAM HISTORY AND MANDATE
Saulteaux Heritage School is a nursery to grade 8 school situated in the core area of Saulteaux First Nation # 159 reserve and is located 30 kilometers north of North Battleford on highway # 4. We have approximately 100 students enrolled with a professional staff of 22 teachers.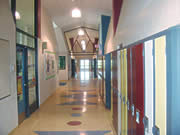 Saulteaux School was built in two phases. The elementary wing was completed approximately 25 years ago in 1982 for Nursery to Grade 8 students. We have a very adequate industrial arts lab, science lab, library, kitchen servery and multi-purpose room.
The school grounds are well equipped with outdoor play centers, swings, football/soccer pitch, and basketball courts. The school is also located in near proximity to the community arena. The arena is equipped for artificial ice.
The mandate of Saulteaux Heritage School is to build with pride on the cultural uniqueness of every student. The students must develop their full potential, academically, physically and socially so they can claim their rightful place in society. While insisting on high academic standards, a prominent place will be given to physical health and well being and to the development of good citizenship and good values.
The children must develop pride in their cultural origins and values so that they may live with integrity, developing respect for themselves and for all who walk the same path. Saulteaux Heritage School is committed to being a safe and happy place where academic and personal development will go hand in hand.
Mission Statement:
Our mission at Saulteaux Heritage school is to create a strong, caring environment for all children. We will provide opportunities for students:
To develop physical, mental, emotional, and social skills which will enable them to meet the challenges of their life long journeys
To become aware of their ancestral language, wisdom, belief system, customs, relationship to people and environment, and the reasons for these relationships historically, spiritually, and traditionally
To strengthen and harness their power and strengths, and return to their most precious values based on traditional learnings.
Sauteaux Heritage School
2013-2014 Updated: September.16, 2016
Last
First
Phone
Education Portfolio
Moccasin
Ricky
386-2067
Principal
Moccasin
Miranda
386-2727
Admin Assistant
Moccasin
Olivia
386-2727
Bus Driver
Night
Tammy
306- 441 4539
Bus Driver
Gopher
Rod
386-2020
306-481-5384
Post Secondary
Gardypie
Wendy
386-2066
306-480-8105